By sindrehsoereide
Today's Audio Book is a New Release that both men and women should enjoy. Take a look and prepare for the journey!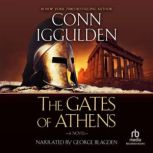 The Gates of Athens - Audiobook Download - $12.49
from:
AudiobooksNow
Synopsis
Evoking two of the most famous battles of the Ancient Worldthe Battle of Marathon and the Last Stand at ThermopylaeThe Gates of Athens is a bravura piece of storytelling by a well acclaimed master of the historical adventure novel. In the new epic historical novel by New York Times bestselling author Conn Iggulden, in ancient Greece an army of slaves gathers on the plains of Marathon... Under Darius the Great, King of Kings, the mighty Persian armyswollen by 10,000 warriors known as The Immortalshave come to subjugate the Greeks. In their path, vastly outnumbered, stands an army of freeborn Athenians. Among them is a clever, fearsome, and cunning soldier-statesman, Xanthippus. Against all odds, the Athenians emerge victorious. Yet people soon forget that freedom is bought with blood. Ten years later, Xanthippus watches helplessly as Athens succumbs to the bitter politics of factionalism. Traitors and exiles abound. Trust is at a low ebb when the Persians cross the Hellespont in ever greater numbers in their second attempt to raze Athens to the ground. Facing overwhelming forces by land and sea, the Athenians call on their Spartan allies for assistanceto delay the Persians at the treacherous pass of Thermopylae...