---
Interested in fighing styles like, Parkour, Kung Fu, Kimura, Cran style and 'Flash'. Well ever heard of the the term 'Yakusa'? Lets get deeper. what if you defended someone and they killed your partner in return? Want a plot, want to experience it first hand without the severe consequences and repercussions. Read on and I will show you how.
Plot summary (spoiler alert)
In 2015, defense attorney Takayuki Yagami investigates and successfully clears hospital worker Shinpei Okubo of a murder charge. However, Okubo is arrested shortly thereafter for allegedly murdering his girlfriend. Guilt-ridden, Yagami resigns from his law firm. Three years later, Yagami has become a private detective in Tokyo's Kamurocho district and accepts investigation requests with his partner, ex-Tojo clan member Masaharu Kaito. A serial killer has been murdering yakuza members in Kamurocho and removing their eyes. Yagami accepts a murder case concerning a Matsugane clan captain, Kyohei Hamura, who is suspected of killing a Kyorei clan member using the same methods. Yagami proves Hamura's innocence, though he suspects that he is working with the killer Yagami dubs the Mole. Hamura orders him to stop investigating the Mole.
Yagami returns to his office to find the Mole has killed Masamichi Shintani, his former colleague and teacher. He finds a recent call on Shintani's phone for Dr. Yoji Shono of the Advanced Drug Development Center (ADDC). He questions ADDC director Ryusuke Kido about Shintani's phone call, to no avail. After further investigation, Yagami meets construction mogul Shigeru Kajihira at a Kyorei clan hideout. Kajihira reveals a failed plan to seize land around the ADDC for redevelopment, which was foiled when researchers claimed to have discovered AD-9, a potential cure for Alzheimer's disease. Kajihira bribed then ADDC vice-director Toru Hashiki to discredit AD-9 only for the latter to die from injuries sustained in an apparent drunken brawl. Kajihira asks Yagami to investigate Hashiki's death as he suspects he was murdered to cover up something related to AD-9.
Yagami is brought to the public prosecutor's office for questioning, and is informed that Kazuya Ayabe, a crooked cop who was Yagami's informant, has been arrested on suspicion of being the Mole; Yagami, however, is unconvinced. He and Kaito find Hamura hiding out in an underground illegal gambling den and question him about his connection to the Mole and other possible suspects. Yagami concludes that Shono may be organizing the murders before Hamura is rescued by Matsugane clan members. He theorizes that the Mole's killings are human experiments to test the effectiveness of AD-9, with Koichi Waku being the first subject, while Hashiki and Shintani's were killed to cover up the truth. Yagami also theorizes that Okubo did not kill his girlfriend; Shono killed her to frame Okubo so that Waku's death would not be reinvestigated.
Kaito is taken hostage by Hamura, forcing Yagami to storm a Matsugane hideout. Yagami finds Hamura and Kaito, and defeats and captures Hamura with the help of Mitsugu Matsugane. Yagami and Matsugane transport Hamura to a Kyorei clan hideout and interrogate him, learning that Hamura worked as a human trafficker for the ADDC and helped frame Ayabe for Shintani's murder. The Mole appears and shoots at Hamura, but Matsugane shields him and is killed. Hamura reveals that the Mole is Mitsuru Kuroiwa, a detective in the Metropolitan Organized Crime division, and gives Yagami definitive evidence that the ADDC participated in Shintani's murder.
During Ayabe's trial, Japanese Vice-minister of Health Kaoru Ichinose covertly arranges a hit on Kuroiwa. Kuroiwa kills his assailants and storms the ADDC. Yagami finds Kuroiwa taking Shono hostage, intending to force him to finish developing AD-9. Yagami defeats Kuroiwa and the police surround them, killing Kuroiwa when he tries to kill Shono. Shono injects himself with a new version of AD-9 and dies from its side effects after his eyes turn blue. Kido confirms Shono's human experiments at Ayabe's trial, and the blue-eye sign was why Shono had their eyes removed. The court acquits Ayabe; chief prosecutor Kunihiko Morita and Ichinose are imprisoned for their involvement and Kajihira is placed under investigation. Okubo is freed after three years on death row, and Yagami and Kaito decide to resume being ordinary private detectives.
Want More?
According to Nagoshi, Korean films were the primary influences on the detective character. Since the story of Yakuza series' protagonist Kazuma Kiryu ended with Yakuza 6: The Song of Life, the Ryu Ga Gotoku Studio's game developers wanted to create a distinctive character for Judgment. At the behest of producer Kazuki Hosokawa, the team decided the character should be a detective. To generate a major contrast between the leads, staff wanted to make Yagami a more relatable character based on the troubles he suffers in the narrative that caused him to quit being a lawyer. Details of Yagami's past and his new life as a detective were elaborated upon to attract players to him. Because of the popularity of detective stories, Ryu Ga Gotoku Studio wrote Yagami as a man who would become more knowledgeable during the game alongside the player. The biggest influence was the Paul Newman film The Verdict where his character suffers a crisis over his career as a lawyer similar to Yagami's.[28] Writers, Nagoshi and Masayoshi Yokoyama, who had worked on Yakuza 0, wrote the narrative to make it darker than the studio's previous titles but also balanced it with humor.
Get the Game Before Anyone Else Here!
References: https://en.wikipedia.org/wiki/Judgment_(video_game)
---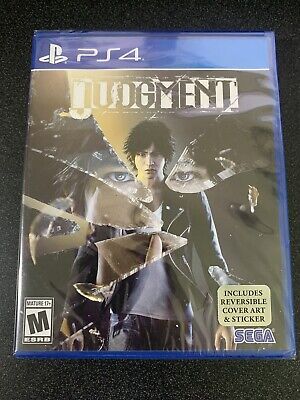 ---
JUDGMENT - Gameplay Walkthrough Part 1 - Prologue (Full Game) PS4 PRO
Judgement Gameplay Walkthrough Full Game PS4 Pro No Commentary 1080p 60fps HD let's play playthrough review guide Showcasing all cutscenes movie ...